Construction for Erosion/ 30° Blank BubbleConstruction for Erosion/ 30° Blank Bubble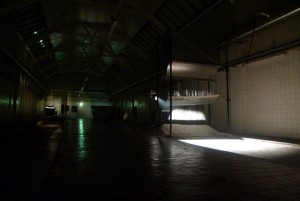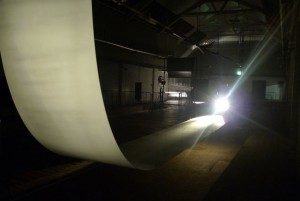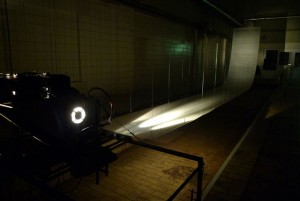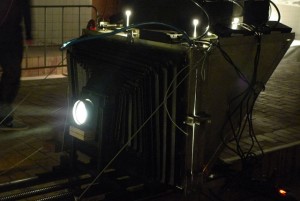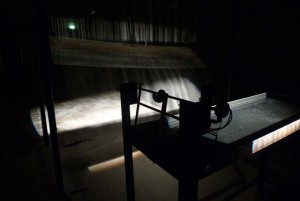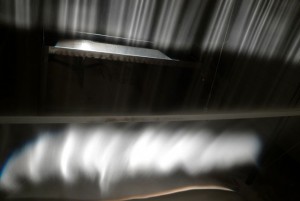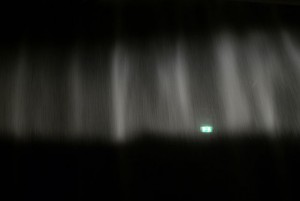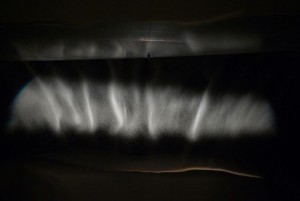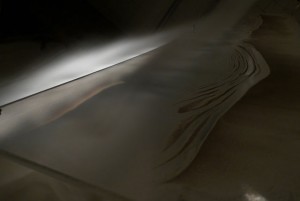 Installatie: Construction for Erosion/ 30° Blank Bubble
Locatie: Schellens, Eindhoven, Nederland
Bart Prinsen is gefascineerd door het spanningsveld tussen de alomtegenwoordigheid van chaos en de diepgewortelde neiging van de mens om orde te scheppen. Dit komt tot uiting in multimediale installaties waarin hij gebruik maakt van elementen als zand, rook en water. In de oude textielfabriek van Schellens presenteert hij twee werken.
Construction for Erosion bestaat uit een metalen silo waaruit door een smalle gleuf aan de onderzijde fijn wit zand loopt. Het zand vormt een dun gordijn waarop een streep licht wordt geprojecteerd. Doordat het zand niet helemaal gelijkmatig stroomt, is de projectie te zien als een golvende, steeds bewegende lijn.
30° Blank Bubble wordt gevormd door een projectie van een luchtbel op een halftransparant scherm. In de projector bevindt zich een reservoir met olie waarin steeds langzaam een bel opborrelt. Het projectiescherm is zeer langgerekt en als een soort schans in de ruimte gehangen, waardoor het geprojecteerde beeld sterk vertekend wordt.
De beelden in beide werken lijken zich eindeloos te herhalen maar zijn nooit precies hetzelfde. Prinsen probeert met deze hypnotiserende beeldenstroom de gedachten even helemaal stil te zetten. Door hun organische en onregelmatige beweging zijn de vormen niet terug te brengen tot een duidelijke structuur en kun je niet anders dan gebiologeerd blijven kijken.
Installation: Construction for Erosion/ 30° Blank Bubble
Location: Schellens, Eindhoven, Netherlands
Bart Prinsen is fascinated by the tension between chaos and the tendency of human beings to create order. In the old textile factory Schellens, he presents two works. Construction for Erosion consists of a silo from which fine sand runs through a narrow slit. The sand forms a thin curtain on which a light stripe is projected. 30° Blank Bubble is formed by a projection of a bubble on a half transparent screen. The projector consists of a small reservoir of oil in which slowly a bubble arises.
The images in both works seem to be endlessly repeating themselves but they're never exactly the same. With this hypnotic flow of images Prinsen tries to freeze the mind completely. Because of their organic and irregular movements the forms cannot be reduced to a clear structure and you can only watch mesmerized.